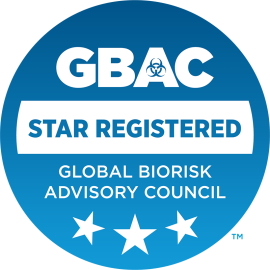 Ad Rail USA™ GBAC Star Registered Safe2Touch Escalator Safety Program improves public safety on escalators.
Ad Rail USA™ Escalator Media has been in business since 2008 installing AdRail™ media and event sponsorship campaigns on escalator handrails for top national brands in the US such as Amazon, Intel, Raytheon, Sprint, MasterCard, to name a few. Ad Rail USA's patented film and installation application system was invented by EHC Global, the world's leading escalator parts manufacturer and provider. Ad Rail™ is a temporary film that is applied to the existing black rubber or plastic handrail on an escalator, our product does not change, obstruct, modify, alter, or impact the existing warrantees on escalator systems. Ad Rail™ can be easily applied to any escalator handrails in convention centers, hotels, arenas & stadiums, airports & transit hubs, malls and any other public facilities that have escalators worldwide.
Flash forward to the start of the "Global Pandemic" in March of 2020, Ad Rail USA pivoted its business model to focus on escalator safety cleaning and disinfecting methods for the traveling public, hence the creation of the Safe2Touch program.
Public Facility escalator riders were reluctant to hold on to handrails because of germ association and bad public perception. Due to the pandemic, this concern has increased, hence increasing the liability even further.
Through the association of GBAC / ISSA and certified partners,  Ad Rail USA developed a program that is laser focused on infectious disease prevention.
Read GBAC's Case Study on our Safe2Touch program by clicking here

Ad Rail USA's Safe2Touch Objectives:
Ad Rail USA Safe2Touch – Ad Rail™ is installed on a minimum of a quarterly schedule, of which involves cleaning of interior escalator mechanics, and, weekly cleaning of exterior of the handrails using GBAC registered microfiber and disinfecting solutions. Ad Rail USA Safe2Touch field personnel to train facility's janitorial contractors on the above exterior film cleaning methods for increased cleaning frequency. Quarterly facility reviews include ATP testing results to set goals for continuous improvement of the Safe2Touch program.
Additional Facility Benefits – Since the 1920's abstract graphics on handrails were used as speed and motion indicators helping people to judge the speed, motion, and direction of the moving stairs. In 2013 several major safety studies proved that using Ad Rail USA's patented printed advertisement film as a point of reference reduces trips and falls. AdRail™ is approved by ASME A17.1 national codes committee as a safety benefit for escalator passengers.
Post-Installation Cleaning Ongoing Service Program
Ad Rail USA S2T install / service team to weekly clean Facility escalator handrail exteriors using GBAC registered technology, CPI I-Fiber pads in conjunction with an EPA registered disinfectant approved for handrails to be used. Facility and Ad Rail USA Quarterly ATP goal reporting and ongoing improvement plan reviews to be conducted.
Graphics Help Judge Speed & Direction:
Once your facility's safe escalator program package is signed off and approved we'll make sure all appropriate certified seals are represented in a evenly distributed pattern on the rail to simulate the safe effects that still hold to this day from the original dot pattern study from the 1920's to help reduce trips and falls at your venue. The design setup for this safety campaign is no-cost for the facility.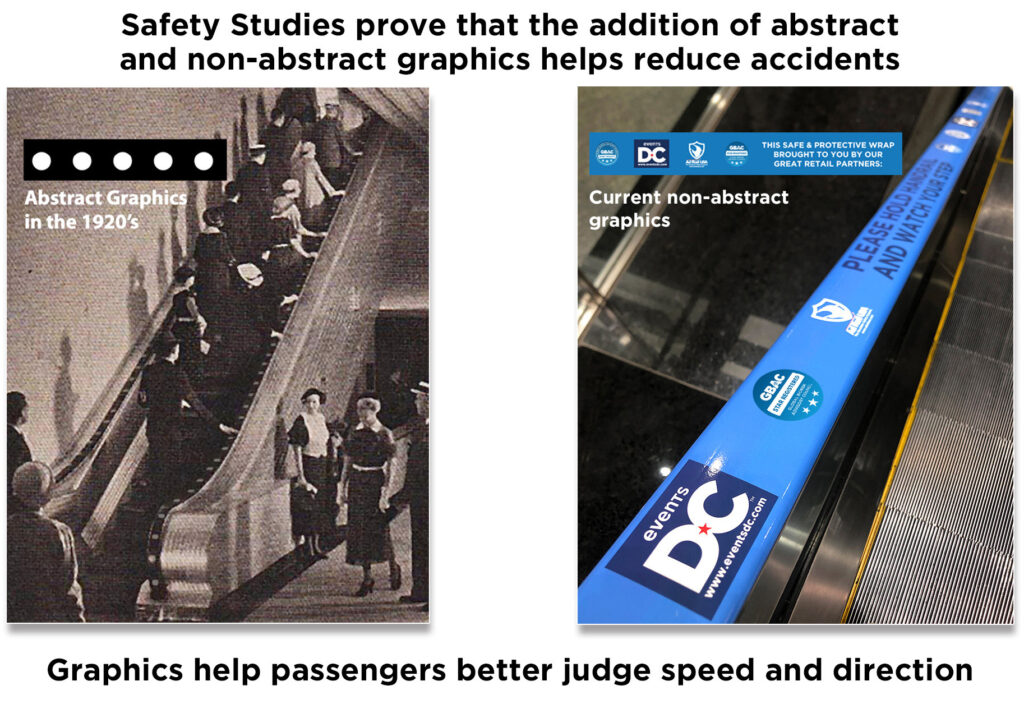 A cleaner, healthier handrail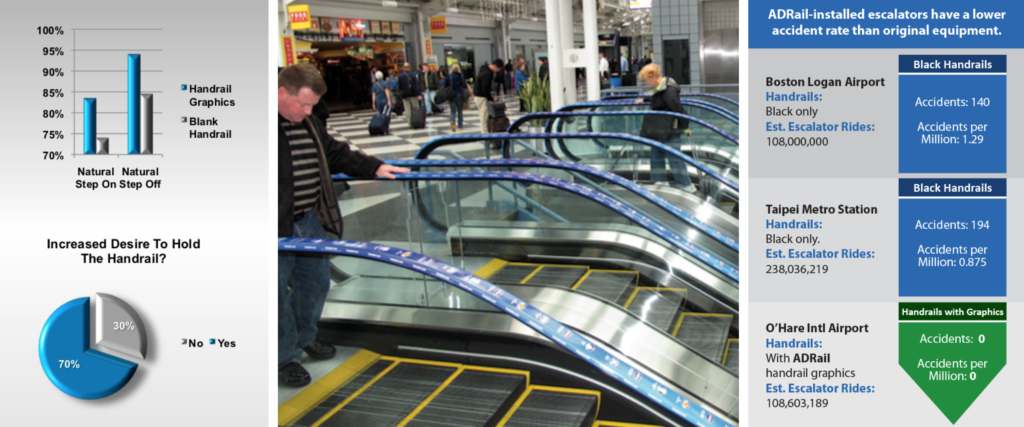 Proven Safety: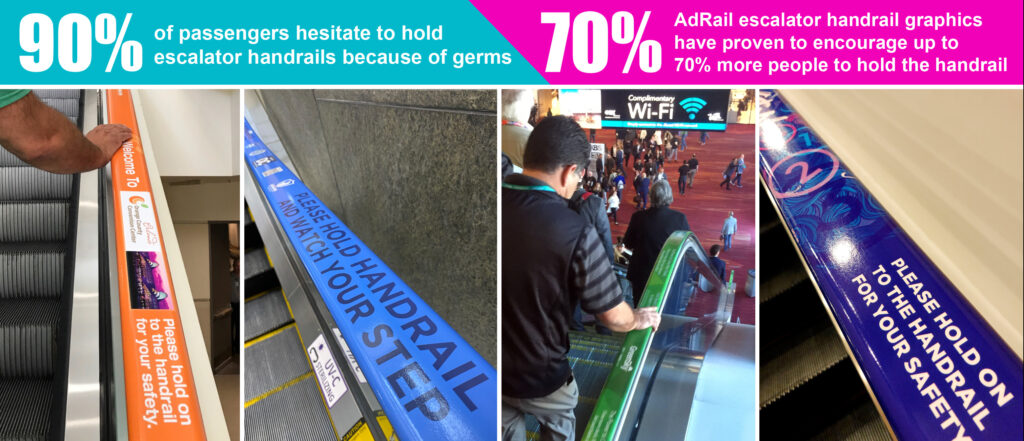 Testimonials:
"The Ad Rail USA Safe 2 Touch program is unique compared to some of our traditional GBAC Registered Programs. In working with the Ad Rail Team, we have learned a lot about properly maintained, and importantly for the GBAC Registered Program, how to properly clean and disinfect escalator handrails. Cleaning and disinfecting continue to be top of mind for everyone, and awarding the GBAC STAR Registered Seal to Ad Rail USA is another step toward protecting human health. The well-known public reluctance to hold on to escalator handrails due to the obvious germ factor, has resulted in an increased risk of injury and liability for public facilities. Facilities utilizing the Safe 2 Touch program can reassure visitors of their commitment to protecting everyone's health and safety."

~ GBAC Executive Director Patricia Olinger
---
"Draka EHC is pleased to see the continued growth and success of Ad Rail USA as this represents a great step forward in improved escalator safety! Ad Rail™ is the only removable handrail graphic product that has been tested and approved by Draka EHC for use in combination with both our thermoplastic NT and conventional rubber handrail products."

~ Patrick Bothwell, Draka EHC / Prysmian Group
---
"Thyssenkrupp Elevator was very impressed with the Ad Rail escalator handrail sponsorship at the Grand Hyatt Hotel in San Antonio TX during the ACAAI show. Thyssenkrupp is comfortable and confident enough to allow them to proceed at the Grand Hyatt Hotel, we believe Ad Rail contributes to human safety and equipment safety."
~Marcos Zapata, Thyssenkrupp Elevator
---
"Thanks to you and to Clear Channel Airports for a safe and positive experience with Ad Rail™ at Chicago O'Hare International Airport. The Hilton Hampton Inn escalator handrail campaign, which ran on 16 escalators located throughout the terminals, was seamless and turnkey for the airport. We received only enthusiastic comments about the Hilton campaign. In addition, the Clear Channel Airports and Ad Rail USA™ program provides O'Hare with an innovative, new opportunity to generate significant additional revenue for Chicago. I am happy to support future Clear Channel Airports and Ad Rail USA™ campaigns at O'Hare, and would recommend an Ad Rail USA™ escalator handrail advertising program to any municipality, airport, or escalator owner."
~ Glen Ryniewski, Chicago Department of Aviation Concessions.